Roman Finkel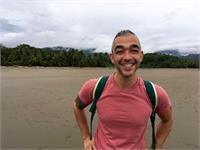 Roman began practicing yoga more than a decade ago in NYC.
After doing his 200-hour Hatha teacher training in Costa Rica, he has taught in Costa Rica, New York City, Mexico, and Fredericton. While physically demanding, Roman's classes are centered around lightness, gratitude, joy, and not taking ourselves too seriously. Roman believes in a safe, sustainable, and fun approach that focuses on alignment, breath, and present moment awareness. Roman enjoys walks on the beach, petting dogs that don't belong to him, and writing about himself in the third person.
Roman Finkel instructs the following:
A flowing style of postures put together to encourage the flow of energy through the body, combined with the grounding and unblocking effects of a deep stretch. Delicious:)




In a moderately heated room, this class uses the union of movement, breath and music to help get us out of our heads and into our hearts. With it's roots in Vinyasa Yoga and Anusara Yoga, this class offers yoga students a chance to let go of inhibitions to become more flexible in mind and spirit! Combing breath with movement to create more heat from the inside out.